The Occupational Development Project : One of HRH's Sustainable Development Initiatives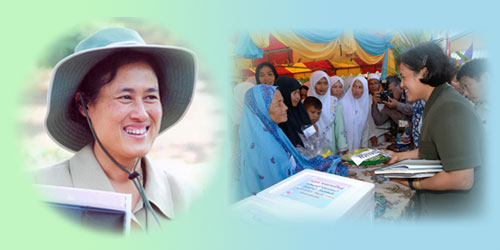 For more than 30 years, Her Royal Highness Princess Maha Chakri Sirindhorn has been working on numerous development projects for the benefit of the rural villagers mostly residing in remote areas of Thailand. Having realized that children are the most vulnerable group, Her Royal Highness began her first project in 1980 focusing on improving the nutrition and health status of children attending schools in remote communities.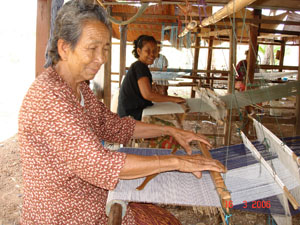 Not only the school children, Her Royal Highness also expressed her concern for the well-being of their parents and other community members. Most of these people are farmers producing field crops and farming products of which their quantity and value fluctuate, depending on environmental impact and global demand. Transportation also plays a significant role in promoting these villagers' ability to sell their produce in the markets outside their community.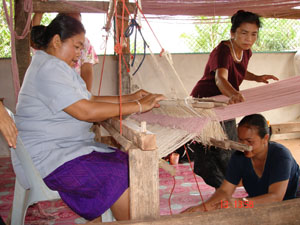 Her Royal Highness Princess Maha Chakri Sirindhorn frequently visits remote villages and has realized that most local people generally earn very small incomes since they depend solely on farming products and have no other secondary occupation.
In 1995, Her Royal Highness initiated the project on Occupational Development for villagers residing in Na Yao Village, Sanam Chaiket District, Cha Choeng Sao Province. Chachoengsao is a province in the eastern-central part of Thailand. Many years ago, Na Yao Village was a drought-stricken area which was not easily accessible. Residents of this community are Northeastern people having moved in to occupy the area. Most of them are farmers planting rice and other farm crops such as corn, soy bean and tapioca.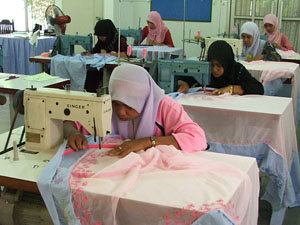 Her first intention was to encourage people to work after the harvest season to earn supplementary incomes for their families and to become more self-reliant. The project places an emphasis on a complete cycle of development, starting with surveying the needs, skills and local wisdom of the villagers, the availability and abundance of essential resources and the potential of market. Suitable occupations that fit local conditions and needs are therefore selected by the villagers themselves.
To empower them, an occupational group is formed by applying the cooperative principles along with proper financial and accounting knowledge for the group to start their small enterprise. Training programmes are also provided in various aspects such as technology exchange, skill improvement, product quality enhancement, design and creativity development and business management skills.
Her Royal Highness Princess Maha Chakri Sirindhorn also provided them with the revolving funds and necessary equipment for initial investment and operation. In addition, marketing for local products is another concern of Her Royal Highness who realizes that villagers are not so keen at. Her Royal Highness therefore helps the groups by establishing "Phu Fa Shop" as a centre for gathering all products from the occupational groups from every region of Thailand. The shop sells products both retail and wholesale and develops an allocation of benefit system back to the communities participating in the project, including children and youth in remote areas, to promote sustainable development and better quality of life.
From 1999 to 2008, more than 90 occupational groups including the groups under the special relief programmes have been formed and about 2,200 villagers became members of these groups. They have developed the cooperation and cultivated a sense of responsibility among their group and community members.