Building Good Nutrition : Foundation for Development (Part One)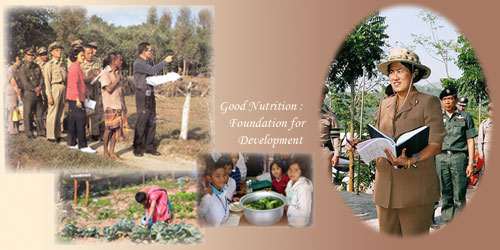 "… To me, nutrition is my special interest. Following Their Majesties the King and Queen throughout the Kingdom, I have seen undernourished children on many occasions, and I agree with nutrition experts that improving the nutritional status of our children is an important task which needs urgent attention from everyone. I believe we all agree that food is one of the most significant factor of our basic needs, and increased access to food, household food security and proper diets need to be given a very high developmental priority. …"

H.R.H. Princess Maha Chakri Sirindhorn
FAO Regional Office for Asia and Pacific, Bangkok, Thailand, 20 October 1992
THE DEVELOPMENT WORK AT THE EARLY STAGE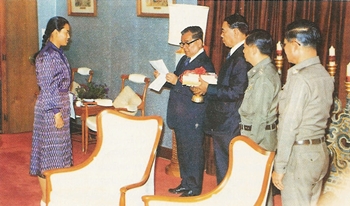 Through the years of accompanying His Majesty King Bhumibol Adulyadej and Her Majesty Queen Sirikit visiting people in every region of Thailand, Her Royal Highness Princess Maha Chakri Sirindhorn saw that people in remote rural areas were deprived of public services and so lived below the poverty line. What Her Royal Highness has always seen and what she has helped Their Majesties the King and Queen have inspired her to put her effort in developing the well-being of those people.

Her Royal Highness began her first project in 1980 by giving her first priority to children, because they are most vulnerable and also the hope for the nation. Malnutrition, illness and lack of educational opportunity were the issues that prevented them from the full potential for growth and development. Nor could they have sufficient capabilities to contribute to their families, communities and the country.

Her first initiative as the Agriculture for School Lunch Project, which was designed to combat malnutrition among school children in order to facilitate their learning. To determine the optimized model for development, Her Royal Highness piloted the project in three Border Patrol Police Schools in Kanchanaburi Province, Ratchaburi Province and Prachuab Kirikhan Province. The project has yielded good results and therefore has been expanded to other remote schools throughout the country. With her continuous monitoring at the project sites and by keeping detailed records, there has been a lot of progress. However, some problems remain and new challenges arise. Years later on, many more development projects have been initiated to improve other aspects of quality of life of the people residing in remote rural areas.

The development work Her Royal Highness Princess Maha Chakri Sirindhorn has been carried out for about thirty years has contributed to the well-being of the disadvantaged as evidenced by the improvement of nutrition and health of thousands of children, who have stayed in schools and continued their study at the higher educational level. Good education could lead to wider choices of work and higher income for the families, including better environment they live in.

Her Royal Highness's priority in pursuing the development work is "People", using diverse and pragmatic approach to solve the problems. In her own words, development is described as follows :

"… Development is a process leading to progress or change for the better. Sustainable development is always the goal of development workers. Nowadays I should say 'development facilitators' instead of 'development workers'. Our aim is to improve livelihood of the target population without destropying the environment and to conserve the ecological balance by avoiding depletion of natural resources.
Development varies with culture, geography, religious belief, ethnicity and socioeconomic background. Development is also the matter of being able to harness all kinds of knowledge and technology from local wisdom, etc. However, success stories usually involve development workers who are caring, responsible and respectful for other human beings. In other words, development involves a lot of humanitarian and spiritual elements…"

H.R.H. Princess Maha Chakri Sirindhorn
The 5th UNCTAD XII Roundtable Accra, Ghana, 24 April 2008.
CONCEPTUAL FRAMEWORK
FOR THE DEVELOPMENT OF QUALITY OF LIFE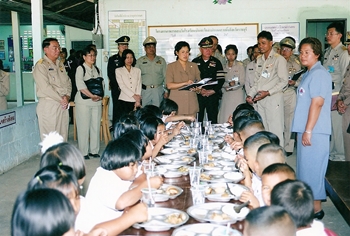 Almost thirty years have passed since her first project launched in the three schools in the remote areas. The following reflect main conceptual framework of Her Royal Highness's development projects over those years of continuous working :
1. Food and Nutrition Come First
Children are important. They are the future and the hope of the nation. At present there are many Thai children whose bodies and brains are not well developed, because they have not eaten clean and right proportion of food due to poverty or ignorance about nutrition. Especially during economic crisis like this, cases like those may increase. In child development, if we cannot take care of basic factors like health and hygiene, children are not ready to develop in other aspects, and they cannot be the future of the nation. To provide those children with opportunity to eat well, all parties must seriously cooperate.
Seminar on 'Protect the Children during Economic Crisis'
Bangkok, Thailand, 8 January 1999.
2. Start Small, Succeed Well, Then Expand
We should 'start small, succeed well and then expand', not just doing big things from the beginning. In late 70s I learned that there was a prevalence of malnutrition. I saw the incidence among school age population. So what I did was to set up a system to improve the distribution of food. We had a lot of food, but it seemed that the distribution was poor in our country.
We chose to start with the remote schools, that were not in crisis but not too rich either. The number of the schools must be manageable for me – not a thousand schools, but only three schools to start with, and not yet Southern schools at that time. Now the project expands to cover schools in more challenging places.
When I am certain that the process is feasible, I would then give these tested solutions to the administration or the agency in charge. They can then scale it up to cover the whole population who can benefit from such undertakings.
If you launch some work, for example, telling the farmers to plant certain vegetables or raise cattle, there are many risks, like the climatic risk which is a big issue today. The farmers are subject to those risks. They might go bankrupt and be tortured, and the company or the government agency who gave them advice would not be responsible at this stage. So we think we try to do the experiments until we are sure that the work can be implemented. This is a measure of risk management.
The 5th UNCTAD XII Roundtable Accra, Ghana, 24 April 2008.
3. School as the Centre of the Development
Schools are the centres of communities. New technique in agriculture that the government promoted can be taught to students of the new generation and their families. It is more beneficial to teach them early during their school age so when they grow up they are already trained the new technique which is more effective than the traditional way they used to do. They are also accustomed to contacting the government agencies and seek advice more easily. Also their families and people in the communities know where to turn to when problems arise, that is the schools. The teachers are of great assistance in this respect.
Seminar on Agriculture for School Lunch and Promotion of Quality Education Projects,
Sakon Nakorn, Thailand, 17 November 1984
4. The Sooner the Better
After that, my professor suggested to me that it would not be enough to work in just primary schools and pre-schools, because the brain of a person is formed just before that. We should try to target at younger children. It would be better if we could help pregnant women and nursing mothers.
The 60th Anniversary of UNESCO
'Including the Excluded : Building on UNESCO's First 60 Years'.
Bangkok, Thailand, 25 November 2005.
5. Capacity Building is the Key
Therefore capacity building by means of education and training is the key. The traditional ways like setting up schools, community educational centres, knowledge transfer centres and demonstrative development centres, etc., are still effective. In my experience, these work very well in helping people in remote rural communities to have access to both formal and non-formal education.
I believe that building our own capacity through research and development is important. It is not possible for us to rely on other people's technology all the time. When we have such capability, we will achieve sustainable development in the long run.
The 5th UNCTAD XII Roundtable Accra, Ghana, 24 April 2008.
6. Holistic Development
I found that successful projects often involve good partnership and cooperation of many organizations, even individual volunteers. Development is an integrated process, and team work plays a very big role. When I say 'integrated', I mean a holistic approach involving health, education, occupational training, agricultural product processing and industries, etc.
The 5th UNCTAD XII Roundtable Accra, Ghana, 24 April 2008.

PROMOTING GOOD NUTRITION IN THE SCHOOL-BASED PROGRAMMES

1. AGRICULTURE FOR SCHOOL LUNCH
Most children residing in the remote rural communities are from the deprived farming families. The farmers often face food shortage due to inadequate food production to meet their needs, and they have no means to access other food sources. As a result, their children are often trapped in the vicious cycle of hunger, malnutrition and absence from school, thus preventing them from achieving their full growth and development.

To help these children, Her Royal Highness initiated the Agriculture for School Lunch Project in 1980, starting from the small-scale integrated farm to each remote school instead of providing ready-to-eat meals to children. At first, Her Royal Highness piloted in three schools in remote areas by providing inputs ranging from seeds, farm animals, farming tools and kitchen tools, technical training and advice. In her own words :

"… I want to give seeds and agricultural tools to the pupils and encourage them to participate in agricultural work : an indirect and difficult way. Meals are prepared from their agricultural products. This is an alternative way to get food. The by-products are knowledge and skills in agriculture and nutrition which can be used to generate income in the future…"

Teacher Training in Agriculture for School Lunch Project
Narathiwat, Thailand, 26 September 1981.
In the beginning, the produce from the school farm could feed the children only one lunch per week, it was gradually scaled up to two lunches in a week and being increased to be sufficient for every lunch in every school day. When the agricultural produce reaches its optimized goal, Her Royal Highness has introduced a new issue of farm management based on the principle of cooperatives. Various kinds of school farm produce yielded all year round are sold to the school kitchen as the nutritious ingredients for lunch meal preparation through the school cooperative shop. The surplus produce would therefore be sold to the communities. The income generated from these cycle is the reserves for use in the upcoming production. School children also learn how to do the bookkeeping, to work with others as a team and to run a small business according to the principle of cooperatives. While at the same time, their basic academic skills such as mathematics and language as well as democratic principle and ethic consciences have been strengthened.

Each year the project has reached more than 100,000 children in remote schools and community learning centres in different terrains and cultural settings; ranging from the ethnic minority groups in the highlands of the North, the local villagers in the lowlands of Central and Northeastern Thailand, the southernmost Muslim communities to the sea gypsy villages in southern islands of Thailand, in 44 of Thailand's 76 Provinces.

2. PROMOTING HEALTHY PRACTICES THROUGH 'SCHOOL LUNCH'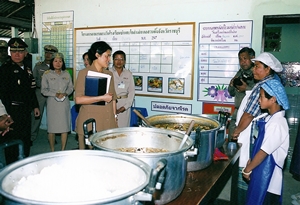 Food insecurity, ignorance and unhealthy practices are the major factors contribution to more severe malnutrition found in children in remote communities. The Agriculture for School Lunch Project was designed to alleviate the severity of this problem. School small-scale integrated farm and school lunch service are the two essential components of the project implementation.

In the very beginning, Her Royal Highness Princess Maha Chakri Sirindhorn provided 1 baht per day per child from her personal fund to the schools to prepare lunch for their students. Her Royal Highness paid attention on the quality of food not only in terms of its nutritional value, but also the food sanitation. A guideline for school lunch preparation has been developed. Regarding the nutritional value, the guideline sets the standard for the school lunch of providing energy and other essential nutrients one-third of the Dietary Reference Intake for Thais 2003 (DRI). In practice, the certain amount of the recommended nutrients was simplified into the "five groups of food" for Thais and then was put into the recommended menu plan. Besides, in preventing the food-borned illnesses, the guideline also includes the suggestions on how to prepare lunch in the clean and hygienic environment based on food sanitation standard. Personal hygiene practices are also emphasized.

In each school day, students join their mothers and community members in rotation to prepare lunch under the guidance of teachers. At present, the schools under the patronage of Her Royal Highness Princess Maha Chakri Sirindhorn provide the nutritionally balanced and hygienic lunches free of charge to more than 100,000 children each school day. Teachers also observed that all school age children in the communities come to schools and they are always accompanied by younger siblings. This is partly as a result of the free meal served at lunchtime.

According to Her Royal Highness's initiative, the school lunch service is a tool for children, parents and community members and school teachers to learn, practice and develop healthy eating habit in the long run. For the short-term effect, it can provide healthy meals. Therefore, combination of these two effects can contribute to good nutrition of our children.

The effectiveness of the sustainable Agriculture for School Lunch Project initiated by Her Royal Highness Princess Maha Chakri Sirindhorn has motivated the government to revive the nationwide school lunch programme which had been implemented in 1952 and 1987 but being suspended afterwards due to lack of funding. As a result, the Fund for School Lunches in Primary Schools Act B.E. 2535 (1992) was enacted. The Act established a fund of 6 billion baht, approximately US$ 154 million, with an aim at improving nutrition and health of students in primary schools. In addition, the Ministry of Education has brought the Agriculture for School Lunch model to implement in the other schools to promote good nutrition and good school performance.

3. NUTRITIOUS SCHOOL SNACKS
TO NOURISH CHILDREN IN REMOTE AREAS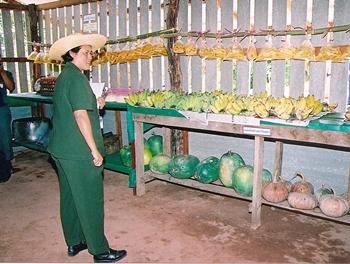 Her Royal Highness Princess Maha Chakri Sirindhorn continued to find other ways to increase the daily intakes of the children to make sure they had adequate food. The School Snacks Project therefore was initiated in the schools participating in the Agriculture for School Lunch Project. With the assistance of the local officers in charge of agricultural promotion and villagers in communities, dry beans such as soybean and mung bean as well as fast growing fruit trees like banana and papaya have been planted in the school farms and communities. Healthy snacks can be prepared in various ways from these local produce to serve the children at least one snack a day as the mid-afternoon snack. The following are some examples of the healthy snacks provided for children : soybean milk (200 ml.), mung bean in syrup, soybean biscuit, banana (1 medium), papaya (1 piece or 7 bites), banana chips, banana in syrup, steamed banana in glutinous rice and black beans cooked in banana leaves, etc. The calories that the children obtained from snacks increased about 100 kilocalories per day.

Soybean is one of the prominent nutritious food. Her Royal Highness promotes the consumption of soybean milk and its soybean products since it is a good source of low-cost protein. As the production of soybean at school farms was too low to meet the school demands, Her Royal Highness has supplied the schools with soybean milk powder for the whole academic year. Thus, the schools in remote areas have served one glass of soybean milk to every child. In 1992 the government established the School Milk Programme which can provide milk to students up to Grade 4 because of the budget constraint. Recently, the school milk programme committee has planned to extend the service to 6 graders in the year 2010. However, Her Royal Highness's support has continued to ensure that every child is served at least one glass of milk every school day, with the main objective of increasing calories, protein and micronutrient intakes. Her initiative in promoting research to fortify calcium into soybean milk, and later on to scale up to an industrial level. At present, soybean milk with fortified calcium is popular among Thais.

CONTROLLING IODINE DEFICIENCY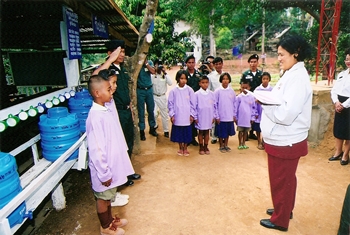 Her Royal Highness Princess Maha Chakri Sirindhorn initiated a school-based programme by collaborating with schools to promote iodine supplement in daily life. The school lunch programme is the best entry point. Iodized salt is used in lunch preparation. Students learn and develop better eating habits. In addition, parents involved in school meal preparation have also been provided with information and skills in using iodized salt. Therefore, the use of iodized salt can be extended to the student's home.

Because of the severe conditions in those areas, only promoting iodized salt was not sufficient for such situation, iodized drinking water is also promoted. A team of students is assigned to prepare iodized drinking water for daily use and to perform quality control using test kits under a close supervision of well-trained teachers. In some areas where goiter rate was higher than 20 percent and iodized salt cannot be accessed in some seasons, the iodized oil capsules (200 microgramme every 6 months) have been provided by the Ministry of Public Health to children and women of childbearing age.

In addition, total school children goiter rate is used as an indicator. Though the reliability is not as good as urinary iodine concentration, Her Royal Highness asked the teachers to evaluate the situation by examining goiter. Instead of depending on outsiders, the schools can self-monitor and self-evaluate the IDD situation in their communities.

At present, the situation of IDD in remote areas is under control at a rate of less than 5 percent since the academic year 2000. However, to ensure that the problem will not recur, the consumption of iodized salt and iodized drinking water continue in the remote areas.

OTHER MICRONUTRIENT DEFICIENCY CONTROL PROGRAMMES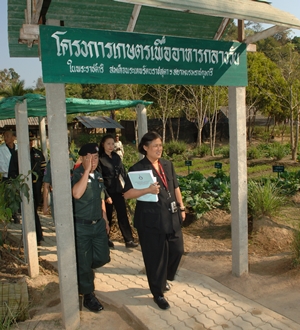 Apart from iodine, vitamin A and iron are another tow essential micronutrients of Her Royal Highness's concern. Deficiencies of these two micronutrients adversely affect growth and development of children.

The problem of vitamin A deficiency in Thailand has progressively moved from clinical to subclinical stage since early 1990s. After acknowledging the problem, Her Royal Highness immediately set up the supportive food production activity to follow the vitamin A supplementation programme launched by the Ministry of Public Health. With emphasis on the vitamin A-rich foods both vegetable and animal sources, cow milk and soy milk supplementation are also provided to children in rural communities.

Iron deficiency anemia is still widely found throughout the country. Her Royal Highness also responds to this problem in her target remote schools with various methods as follows :
- Intake of iron-rich foods such as liver, eggs, legumes is promoted at school lunch.
- Nutrition education focusing on the important role of iron in the body, effects of iron deficiency and food sources of iron are taught in the classes.

PROMOTING GOOD NUTRITION IN THE BUDDHIST NOVICE SCHOOLS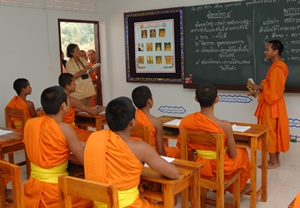 Her Royal Highness Princess Maha Chakri Sirindhorn has given continuous support to the Buddhist novice Schools in providing education to the novices since 2002. Like other boys in remote communities, many young novices are undernourished, and thus not achieving their full potential. Some Buddhist novice schools are located in small villages that cannot afford preparing meals for all novices. Therefore, Her Royal Highness has taken nutrition as her first priority in helping them, providing the fund for meal preparation for novices at the amount of 10 baht per day per novice to 34 Buddhist novice schools in the northern and central regions to prepare lunch every school day for the whole year. The nutritional quality of the meal and food sanitation is emphasized. Training programmes are also provided for the cooks. Besides, the measurement of weight and height are monitored twice a year. At present, 5,996 novices are served nutritious lunch every day.

Her Royal Highness's initiative to provide help for a lot of needy children, in this case the Buddhist novices, giving the opportunity for them to have access to education and also good nutrition, which otherwise are impossible for them.

ADEQUATE NUTRITION DURING RAMADAN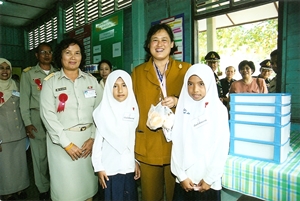 Ramadan is the ninth month of the Islamic calendar. Everyday during the month of Ramadan, from sunrise to sunset, Muslims aged twelve and older are required to ritually fast and abstain from certain acts or food or liquid.

Her Royal Highness Princess Maha Chakri Sirindhorn's intention to help children includes Muslim children during Ramadan. Since every child was eligible for free meals at school, how this would work for the children fasting during Ramadan was a challenge. With her concern for the children and her respect for cultural diversity, Her Royal Highness tried out the Dinner Programme during Ramadan Project with the cooperation of schools and universities to find an appropriate way to assure adequate food for the children.

Instead of school lunch, the schools were asked to prepare take-home meals for children. Another alternative was to provide the children with milk powder and/or eggs. A better solution for this situation turned out to be milk powder. Milk has shown to contribute more micronutrients, especially calcium, vitatmin A, vitamin B2 and iron.

SELF-MONITORING AND EVALUATION SYSTEM

Her Royal Highness Princess Maha Chakri Sirindhorn always pays a lot of attention on monitoring and evaluation of her nutrition projects. This is an important tool to assess progress and achievement of the programmes.

Her Royal Highness has set up a monitoring system at each target school by strengthening the capacity of the school to monitor and evaluate its own nutrition programme such as the Agriculture for School Lunch, School Feeding, etc. School teachers themselves can monitor the nutritional status of their students to provide proper care for individuals. Her Royal Highness selected the most practical and non-invasive method, that is, the measurement of students' weight and height to define children's nutritional status.

To start up a monitoring system in the school, Her Royal Highness provided the school with the necessary tools with a training course. A manual is developed as a quality control guideline for teachers to perform properly. The nutritional status of children is compared with the standard growth chart. With continuous support and close supervision of Her Royal Highness, the monitoring system at school is now an effective tool and routine practice.
--------------------- End of Part 1 ----------------------
Bibliography :
Building Good Nutrition : Foundation for Development, Thirty Years of Work by Her Royal Highness Princess Maha Chakri Sirindhorn. Publisher : Nutrition Association of Thailand under the royal patronage of Her Royal Highness Princess Maha Chakri Sirindhorn (September 2009)