Articles written by
Her Royal Highness Princess Maha Chakri Sirindhorn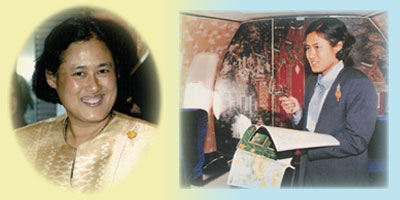 Her Royal Highness Princess Maha Chakri Sirindhorn's writings are far beyond books such as travel books, poetry and children literature, to name a few. Besides, Her Royal Highness has also authored many articles in prose, poetry, songs, as well as prefaces given to requesting people for inserting them into books. A publication entitled Jewels of Myriad Rainbows : Collected Works by H.R.H. Princess Maha Chakri Sirindhorn is a compilation of her written works including translated poetry, interview scripts and essays from school exams.
With permission of Her Royal Highness, her writings in all categories such as academic articles, poetry, recipes including speeches and lectures in various occasions have been published and reprinted in many books, newspapers and journals, for example, the article entitled "The Reasons Why I like Thai Music" was published more than fourteen times in printed matters. The famous poem under the title of "Follow My Father's Footsteps" was often referred and published in many books. For the essays entitled "Reminiscence of the Divine Abode" and "Tide of Consciousness" which were published in the publications of Chulalongkorn University can also be accessed through world wide web at the website of the Faculty of Arts, Chulalongkorn University.